Latest News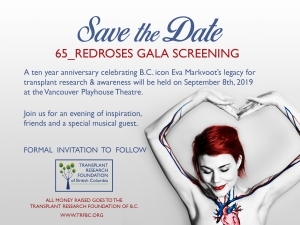 This one night only event celebrates the legacy of BC icon Eva Markvoort and the movement she created for organ donation and CF awareness with the launch of her documentary ten years ago.
The evening will include a screening of 65_RedRoses, inspirational speakers, friends, and a special musical guest.
This is a fundraising event in partnership with the Transplant Foundation of BC, with net proceeds going towards transplant research.
Special thanks to these sponsors: DGC BC, Onni
Date And Time
Sun, September 8, 2019
7:00 PM – 9:30 PM PDT
Location
Vancouver Playhouse
600 Hamilton Street
Vancouver, BC V6B 2P1
Donations will benefit the Transplant Research Foundation of British Columbia, a partner of VGH & UBC Hospital Foundation.
VGH & UBC Hospital Foundation is Vancouver Coastal Health's primary philanthropic partner, raising funds for specialized adult health services and research for all British Columbians. We partner with donors to drive innovation and sustainable health care at VGH & UBC Hospital, GF Strong Rehab Centre, Vancouver Coastal Health Research Institute and Vancouver Community Health Services.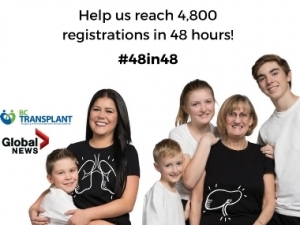 Every year in April, BC Transplant focuses its efforts on sharing stories and raising awareness for organ donation around the province. Have you registered to be a donor yet?
#48in48
BC Transplant is once again be kicking off national awareness week with a 48 hour registration drive. Beginning on Wednesday, April 25 morning, the goal is to reach 4,800 registrations for organ donation in 48 hours! Join the conversation by using the hashtag #48in48 and sharing your wishes about organ donation with your family.
Green Light Campaign
On April 25, watch as cities across the province transform into a sea of green in support for organ and tissue donation. Catch the view and share your photos on social media using the hashtag #LightBCGreen.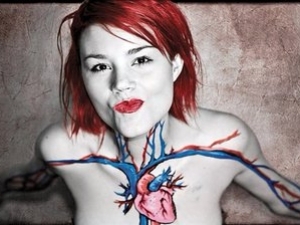 We're in The Muse magazine, a medical humanities initiative that aims to address key healthcare issues through interdisciplinary dialogue! Hot off the press, in time to help us promote Organ Donation Awareness during April. You can find an online version of the magazine here. We've also cut a short video about our campaign from part of the 15 minute mini-doc we did for Arts Health Network Canada.
In the article and short film we talk about the campaign #4Eva and how Eva and Cyrus McEachern collaborated to submit the now famous photos of Eva and the heart she painted on her body. Their inspiration was a contest founded by Dr. Carol Ann Courneya. This contest in turn inspired our legacy campaign, #4Eva.
"Heartfelt Images started in 2000 after I had been to a medical education meeting where I went to a session that was entitled the 'The Use of Photography and Critical Thinking.' And I thought, I wonder if I can bring that idea back and when I'm teaching medical students about the heart, give them the opportunity to use a camera and conceptualize the... more ››